A rather time-intensive recipe, that's why you rarely see it on restaurant menus. Quinces are very hard and it takes a lot of effort to peel them with a sharp knife. If you do quince paste it's worthwhile to try your hand on quince compote, killing two birds or rather two quinces at the same time.
Quinces are old-fashioned fruits but very much in vogue in Southern Europe. Have you ever wondered what quinces look like? Below is a photo of the quinces in our friends' garden in the Provence. They grow on a rather smallish tree that carries an enormous amount of fruits.
Yield: 4 – 6 servings
Time: 3 1/2 hours
Ingredients:
4 1/2 lbs quinces, cut into 1/2 inch slices
1 3/4 lbs sugar
10 cloves
juice of 1 lemon
6 Tbsp rum
2 kg quinces, cut into 1 cm slices
800 g sugar
10 cloves
juice of 1 lemon
6 Tbsp rum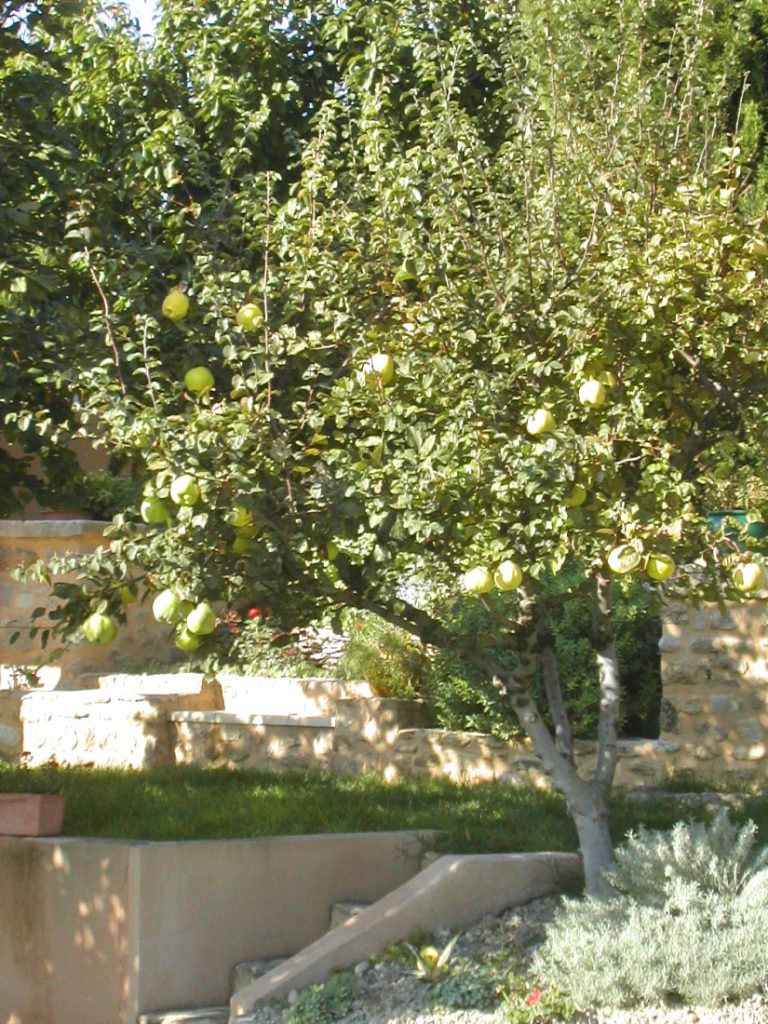 Preparation:
This is an old-fashioned recipe. Don't worry about the 3 1/2 hours of preparation time. Most of it is spent slowly cooking the peels and cores of the quinces to get the poaching liquid. Wash, peel, and core the quinces. Save the peels and cores, we will need them later. They are used for the poaching liquid. Cut the quinces into slices. Put them in a pot together with all the sugar. Add the lemon juice. Let them rest until the cores and peels have been cooked.
Put the cores and peels in a pot with the rest of the sugar and the cloves and cover them with water. Let them simmer gently for about 3 hours. Pass the peels and cores through a fine sieve. The poaching liquid will be used later for cooking the slices, you should have about 4 cups (1 liter) of it left. If it turns out to be less add some water or white wine to arrive at the 4 cups (1 liter).
Add the sugared quince slices and cook them over a low flame for about 20-30 minutes, trying at times with a fork if they are tender. They should not fall apart. Add the rum and let it cool. It will keep for more than a week in the fridge.
I serve it as a dessert warm or slightly chilled perhaps with a scoop of vanilla ice cream or crème fraîche.